PONTANI PRODUCTIONS
PONTANISISTERS.COM
One of todays top burlesque performers, Angie Pontani, "The Italian Stallionette," dazzles on stages around the world, as well as carries her art into other fields and genres, including film, fitness, writing and television. This Brooklyn bump-n-grind bombshell has spread the gospel of burlesque across the globe. The New Yorker calls Angie, "first rate, the perfect centerpiece!" and rightfully so, as her signature acts and productions set standards of style and class.

An award winning entertainer, Angie holds burlesques highest honor, the title of "Queen of Burlesque, Miss Exotic World" as given to her by the Burlesque Hall of Fame in Las Vegas, Nevada. She was named Coney Island's Miss Cyclone, in honor of the world famous roller coaster and has been cited as one of the worlds leading burlesque performers by multiple media outlets. She was named "Best International Touring Artist," by The Naked City/Alternative Media Group of Australia.

Angie's performances and show curating skills are frequently sought by discriminating clients including Lady GaGa, with whom she has worked with on many stage, screen and print projects. Other clients have included Snoop Dog, Dita Von Teese, Bettie Page Clothing, Campari, Esquire Magazine, The Fox 5 Super Bowl Party, Donatella Versace, 50 Cent, The Guggenheim and many more. She is a staple headliner and Viva Las Vegas and has worked exclusively with Hendricks Gin to create her glass bathtub act, which has been the featured entertainment at many of their events throughout the U.S. Angie has appeared multiple times on the Conan O' Brien Show and Gossip Girl and has also been featured in other New York productions including Delocated, Good Morning America, and The Today Show. She was honored to be the subject of an episode of PBS' Driving Jersey, in which the show followed her back to her hometown of Trenton, New Jersey and took an in-depth look at what it means to grow up Italian-American. She appeared in Michael Imperioli's directorial debut film, The Hungry Ghost and has appeared in several Italian television programs, including the SKY UNO series, Lady Burlesque.

Angie was featured in the Lady Gaga and Tony Bennett's Great Performances television special as well as in the cover art for their grammy winning album Cheek to Cheek. She has been photographed by some of todays leading photographers, including Bruce Weber, Ellen Von Unwerth and Steven Meisel.

Angie has hosted her own podcast, The Pontani Pages where she has interviewed such diverse figures as Eli Miller, Brooklyns beloved seltzer delivery man, to rapperTaleb Kweli. She is the co-producer of The New York Burlesque Festival, the worlds longest running and largest burlesque festival, as well as the producer of Burlesque-A-Pades, the touring stage show. Angie created a fitness craze with her dance workout cult DVD series Go-Go Robics, this 1960's styled fitness workout. Angie has partnered with both Crunch Gym and World Dance New York on fitness programs and additional DVD releases.

Angie has modeled for Secrets in Lace lingerie and graced the covers and pages of many magazines including CR Fashion Book, Inked, Pin Curl, Page Six, Glamour, Spanish GQ, Java's Bachelor Pad and countless others. Angie even made a sexy cameo in Eric Powell's comic, The Goon (#36).

Angie lives in Brooklyn, New York with her husband, band leader and frequent co-collaborator Brian Newman and their beautiful daughter Sistilia. When she isn't working, she enjoys being a stay at home showgirl mom and dressing her child in oversized matching head bands.
JEN GAPAY
THIRSTYGIRLPRODUCTIONS.COM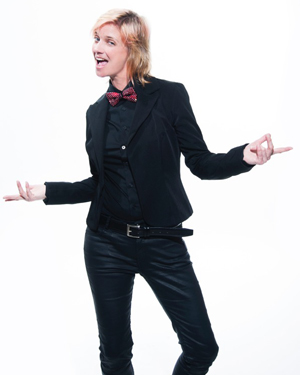 Jen Gapay is the mastermind behind Thirsty Girl Productions, an alias that serves her well as the producer of hundreds of music, burlesque and variety shows. She was voted the #1 Most Influential Non-Performing Woman in Burlesque by 21st Century Burlesque in 2013 & 2014, and was a featured Guest of Honor at BurlyCon in 2014, and voted on to the BurlyCon Board of Directors in 2015. Gapay started The New York Burlesque Festival in 2003 (with Angie Pontani) and The New York Boylesque Festival in 2012 and The Seattle Boylesque Festival (with Daniel Nardicio) in 2015. All three festivals are multi-day, multi-venue events featuring a cavalcade of international performers showcasing for sold out crowds.

Thirsty Girl Productions debuted in 1997 with Seattle's Capitol Hill Block Party, an annual rock-and-roll carnival that continues to this day. After moving to New York, Gapay was Promotions Director at Village Voice, where she created and produced Siren Music Festival at Coney Island, a blockbuster event that drew record crowds in its first two years. She was also the Special Events Director of Astroland Amusement Park from 2003-2008, and currently produces special events for Deno's Wonder Wheel Park, and coordinated Coney Island USA's Mermaid Parade in 2016 and 2017.

In 2010, Thirsty Girl founded and produced The Coney Island Talent Show, now in its eighth year. She is also the Associate Producer of the PBS-aired documentary Last Summer at Coney Island, andhas organized benefits for Coney Island USA, The Coney Island History Project and Save Coney Island.

Gapay was Artistic Director for 2006's The Dresden Dolls, Fuck the Back Row Tour, and talent coordinator for several tours in the USA, Europe and Australia. In the summer of 2008, she teamed up with Amanda Palmer of The Dresden Dolls to co-produce The Establishment: A New World Cabaret Experience at the Rothbury Music Festival in Michigan. That same year Gapay & Sxip Shirey produced Sxip's Hour of Charm at Harvard's American Repertory Theater Company.

Thirsty Girl also co-produces annual shows, Menorah Horah and The Asian Burlesque Extravaganza. She co-produced Kitten N' Lou are OVEREXPOSED and Holier than Thou, at Joe's Pub in October 2015 & 2017, The New Year's Eve Prohibition Masquerade Ball at Dromand is the producer of the touring variety show Filthy Gorgeous Burlesque.
www.thirstygirlproductions.com